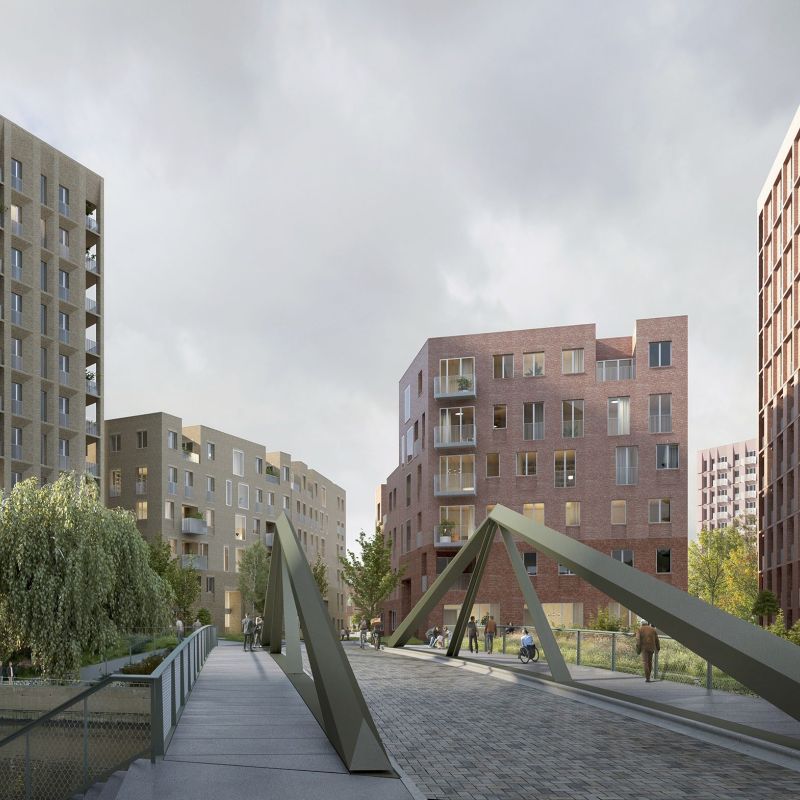 The Triangle Bridge, London
The Triangle Bridge is a new single-span steel bridge over the Waterworks River in east London. London Legacy Development Corporation (LLDC) commissioned the new bridge as the latest in a series of projects to improve access and connections for local communities to the new facilities and opportunities created on Queen Elizabeth Olympic Park. The new bridge will act as a gateway to the Bridgewater Triangle development site. masterplanned by Mikhail Riches, and linking the new neighbourhood to the Carpenters' Estate, and Stratford beyond. The new structure, which replaces the existing E48 Bridge, is a key part of the vision for a new neighbourhood of 600 homes on the Bridgewater Triangle site.
As the latest bridge in a portfolio of many high-quality architectural links created for and since the 2012 Olympic Games, the Triangle Bridge has been designed to sit within this suite of exceptional bridges. This has been achieved through a collaborative approach between architecture, structural engineering and landscaping, and an extensive engagement process with key stakeholders. The resultant scheme is a piece of infrastructure which prioritises the user experience and fosters active travel.
The bridge and associated works – including reinstating an existing towpath under the bridge, which was forced to close due to insufficient headroom– aim to create an environment which supports pedestrians and cyclists. The bridge provides two 2.5m walkways and a 5.5m carriageway for vehicles and cyclists, enabling access for emergency vehicles, refuse trucks and deliveries.
William Matthews Associates and key stakeholders have carefully considered the experiential qualities of the bridge, from the generous pedestrian walkway widths to the superstructure form and material choices. The architects, in collaboration with Expedition Engineering, have designed a 41.5 metre-long bridge with two triangular steel trusses and four high-strength steel hangers. A skewed alignment in plan creates a visually dynamic scheme, with offset hangers and a distinctive angular threshold detail to either abutment, acknowledging the river running below. The robust structure has been designed to appear lightweight, with a sense of permeability and openness perceived from a distance and felt while on the bridge itself. Painted Corten steel will be used for above-deck areas, with untreated Corten for the below-deck areas to minimise the requirement for maintenance.
A rigorously designed kit of parts, each element of the design has been conceived to decrease overall tonnages and bridge deck width/depth. WMA's collaboration with Expedition Engineering focused on creating a bridge with reduced embodied carbon, achieved by minimising structural sizes and maximising the potential of the chosen materials. Expedition assisted in the exploration of construction options and sequencing, with a dedicated zone adjacent to the site being identified for assembly to facilitate the installation of the bridge in a single piece.
This project will be delivered as part of the wider Bridgewater Triangle neighbourhood.
Project Details
Client

London Legacy Development Corporation (LLDC)

Location

East London

Status

Planning permission granted

Team

William Matthews, David Walker, Chris Hall

Structural and civil engineer, sustainability consultant

Expedition Engineering

Landscape Architect

BBUK Studio

Planning consultant

AECOM

Masterplan Architect

Mikhail Riches

M&E consultant and lighting designer

Greengauge

Transport consultant

Momentum

CDM Consultant

Simply CDM

Quantity Surveyor

Gardiner and Theobald

Ecology Consultant

The Ecology Consultancy

Visuals

© Filippo Bolognese

© Isaac Eluwole
Project Details