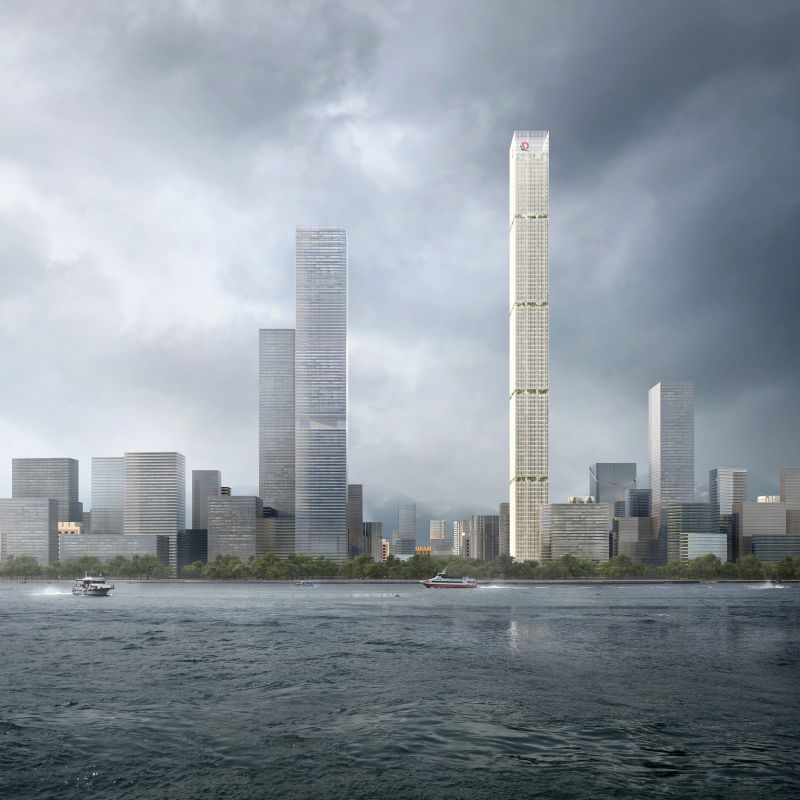 Shenzhen Tower
Evergrande is the second largest property developer in China and in early 2018 it launched a competition for its new headquarters in Shenzhen. The site was a prime location in a new district facing the Pearl River basin, opposite Hong Kong. The tower was to be the centre point of the masterplan with an expected height of 540m.
In collaboration with Adamson Associates we submitted a proposal for a slim rectangular tower with a fine aspect ratio of 1:14. The aim was to achieve a timeless, elegant form in contrast to the more exuberant designs associated with recent Chinese developments.
The 105 floors were split into five zones for lifting, MEP and fire separation. Each floor plate was required to have direct lift access from the ground floor and an average of 70% net/gross. Structurally, a series of mega-columns were tied into the central concrete core at the plant floors.
At street level a five storey podium building completed the site and provided a mix of functions including retail, conference and cultural facilities. Below ground the project linked into the subway system and parking areas.
Project Details
Location

Shenzhen, China

Client

The Evergrande Group

Date & Status

2018, Competition

Team

Ambra Chiesa, William Conway

Images

Filippo Bolognese

Collaborators

Adamson Associates

Consultants

WSP
Project Details