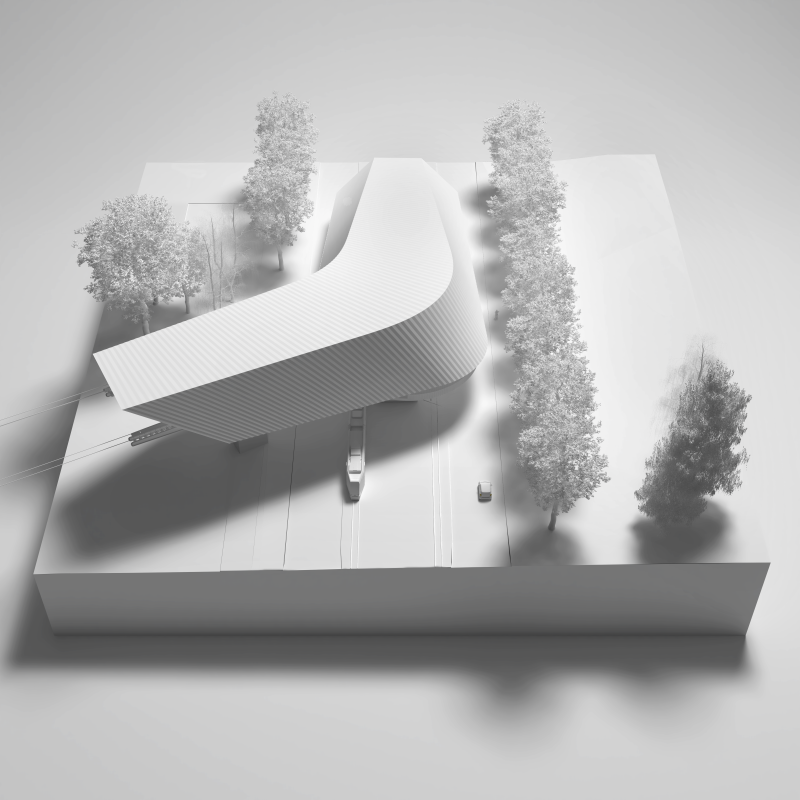 Podbaba-Troja-Bohnice Cable Car
In August 2022 the studio won a shortlisted international design competition for the design of three stations and five pylons that will form a new cable car link over the Vltava river in Prague, linking the districts of Podbaba, Troja and Bohnice.
Cable car stations are primarily public transport stops - Prague's mild climate makes it possible to design open platforms, thus promoting contact of the platform with the surrounding city environment and reinforcing the impression that cable cars are a means of public transport and part of the PID system (trams, buses, trains).
Open platforms not only allow passengers to see new views of the city, but also separate the mass of the roof (and technology) from the lower part of the station, thus visually reducing the overall impression of the cable car stations.
The three cable car stations have been conceived as a single roof, split into three, unifying the architectural language of the different locations. The roof geometry is fluidly adapting to the needs from the inside, as well as suitably reacting to the context. Each individual roof encloses the cable car equipment in an acoustic shell which floats above the platforms as independent elements with fluid and elegant geometric forms.
The platforms below are simple, open floorplates, that allow the passengers to experience the surrounding environment with views up and down the Troja valley. The lower part of each station differentiates itself by responding to the local context; Podbaba's setting is urban – connected to Prague's city centre, Troja's is natural - set into the fascinating landscape of Troja valley, and Bohnice is located at the edge of a residential quarter and creating a new transport hub cultivating the adjacent public space.
The volume of each station has been designed to be as compact as possible. This diminishes the physical presence of each building, reduces construction and maintenance costs and minimises embodied carbon.
The unique natural area of the Troja valley requires a very sensitive approach, therefore the pylons are designed as a simple form that elegantly integrates all the structural as well as technical-maintenance requirements of a cableway. The proposed solution minimises unwanted technical elements at the pylon top, which are so typical of cable car pylons in the mountains, where they usually form a kind of bird's nest / tangle of disorganised structures and equipment. We, therefore, present a solution that would create a clean and uncluttered silhouette on the hillside of Troja.
Project Details
Client

DPP Prague

Location

Prague, Czech Republic

Status

Competition - 1st Prize

Team

William Matthews, David Walker, Petr Suma, Giuseppe Tonelli, Martha Minton, Natalia Michalowska, Joe Randall

Local Partner

Boele - Pavel Fajfr

Structural Engineering

Expedition Engineering & Agile-CE

Specialist cable car consultant

DCSA

Images

Kin Creatives

2DR
Project Details